Not your ordinary workout mat.
Our high-quality, non-slip yoga and reformer Pilates workout mats are made with natural materials, are machine washable, and feature Australian art.
Join the Yogat movement.
Inspiring the community to invest in their mental and physical wellbeing through art.
A local brand on a global mission to make the world a happier and healthier place. We're proud to work in partnership with Australian artists to create our eco-friendly wellness products featuring original artwork.
Our yoga and Pilates mats are made with tree rubber, natural dyes and are 100 per cent biodegradable. And what's better - they're even machine washable!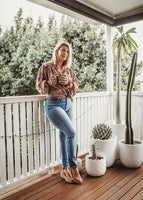 Meet the woman behind the brand
Hi. I'm Cas, a Brisbane based mum on a mission to inspire others to invest in self-care.
In 2018, I was diagnosed with an autoimmune disease and looking for a way to manage my health, nervously joined a yoga studio. After a few months of attending, something amazing happened. My symptoms started to reduce and I had more energy and clarity than ever before.
The benefits were too great not to share, but the hesitation from others to try "yoga" was always met with trepidation. That's when I knew I had to create a product that would "inspire" others to step onto the mat. And so, with a background in art and a love of yoga, I started yogat from my loungeroom. 
Since then, I'm excited to say yogat mats have crossed the globe! I am so grateful for the support and hope our little family brand will continue to motivate mindfulness and movement.
Read Our Story
Shop the look